Engineers Day 2014 : Celebrations in India??
Engineering Community in India is celebrating Engineers Day on every 15th September..Now at 2014 number of Engineers rising in various Engineering branches are very high.. Even Engineers number in India grow its sad to say that Engineers doesn't have much knowledge about this day.
The Engineering Community across India is celebrating Engineers Day every year. If we ask the date of celebrations to Engineering students they may kill them by asking…Engineers Day, what?. we don't hear etc.etc. We cant find any fault in these Engineering students behavior. Becuase a most percentage of colleges never celebrate this occasion. So talented students are unaware of these celebrations. Engineers' Day is celebrated on 15 September every year. The day is the birthday of Sir Mokshagundam Visvesvarayya, an eminent Indian engineer (from College Of Engg., Pune(COEP)) and statesman born in Muddenahalli-Kanivenarayanapura in present day Karnataka. He served as the chief engineer during construction of Krishna Raja Sagara on the Kaveri River near Mysore. He also built many dams in the Bombay presidency (present day Maharashtra). The dams built by him are still functional even today, a testimony to his brilliance, skill, honesty and dedication. So 15 September, Engineer's Day 2014, is quite a remarkable tribute to the greatest Indian Engineer Bharat Ratna M. Visvesvarayya.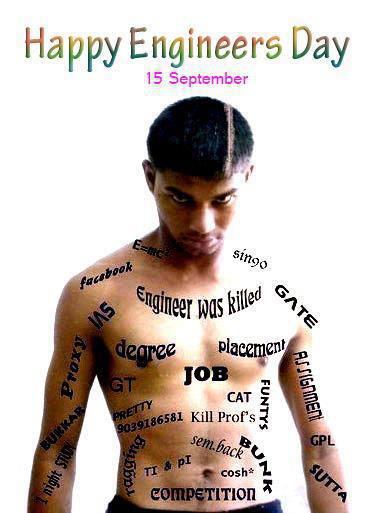 To commemorate the birthday of Bharat Ratna Sir M Visvesvaraya, many events takes place in India every year. National level organizations like The Instituitions of Engineers (India) conduct meets and events on this occasion. Considering global awarenes on climate change and realizing Engineers' role in economic development and environmental responsibility, IEI is dedicating this years Engineer's Day to "Frugal Engineering – Achieving More with Fewer Resources"
Now lakhs of Engineering graduates coming out every year from various parts of the country. Colleges should celebrate this day with seminars about past to present scenario in Indian Engineering. Engineers Day should be a day in which all zested minds in Engineering sector should be treated with zealous by the authorities. Other ways this day will be disapper from history as time passes.
Like us on Facebook ---------------------------------------------------------->>>---------------------------------------------------->>>>>
Click Here to Sent Engineers Day Greeting Cards to Your Friends
Also Read on Engineers Day 2014
Engineers Day SMS (Message you must sent to your Engineering Friends on this day)
Engineers Day Quotes (Favourite Quotes related to Engineering & Engineers Day)
Engineers Day Speech Samples (Speech you must prepare on Engineers Day)
How to Celebrate Engineers Day in Womens only Engineering Colleges?
111 Branches of Engineering in India with Seminar Topics
Also Keep in Mind:
Engineers Day in Panama on January 26 Engineers Day in Iran on February 24 Engineers Day in Ireland on March 1 Engineers Day in Argentina on June 16 Engineers Day in Mexico on July 1 Engineers Day in Colombia on August 17 Engineers Day in India on September 15 Engineers Day in Uruguay on October 12 Engineers Day in Venezuela on October 28
Subscribe in a reader